Public
The National Rehabilitation Center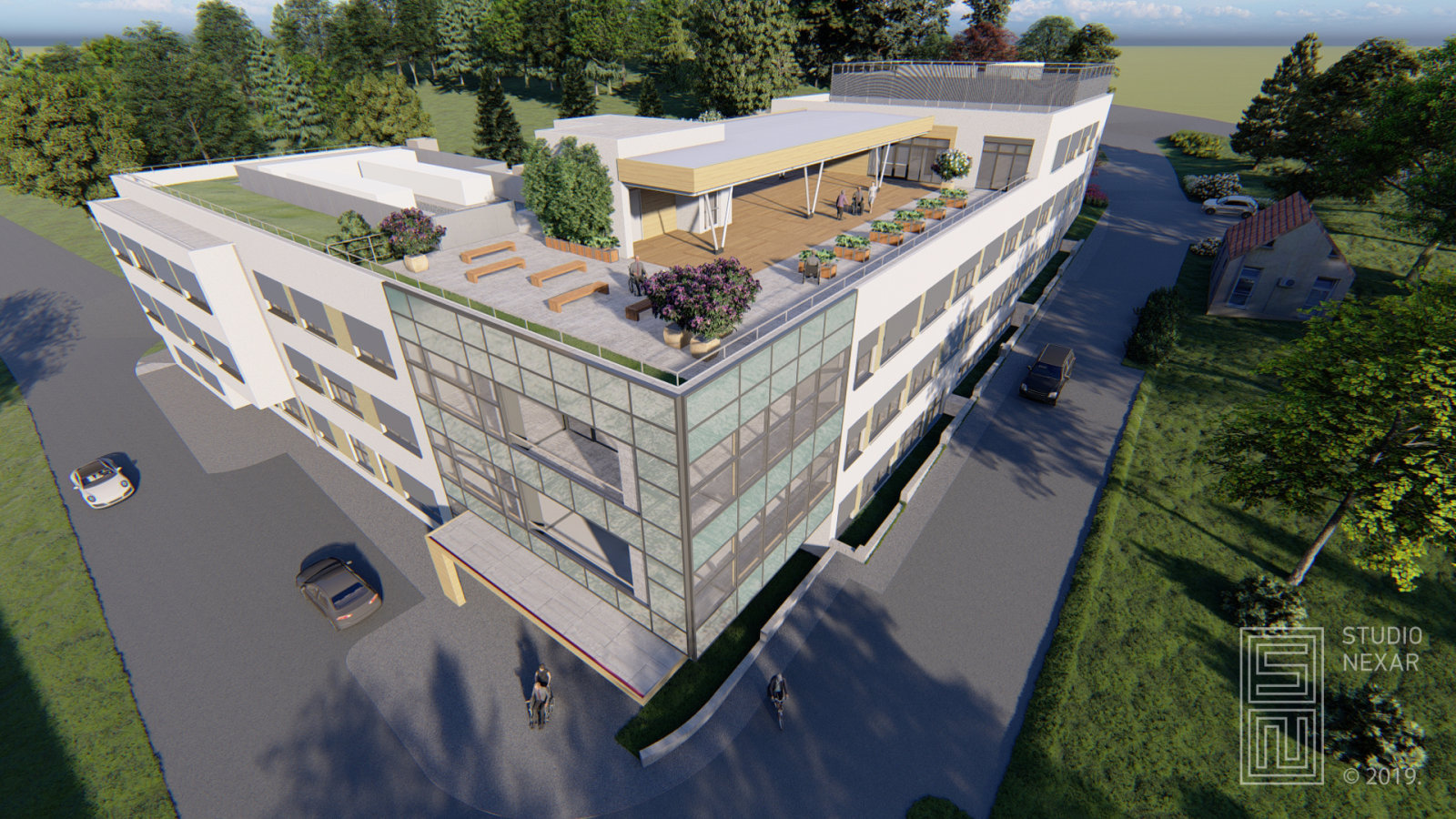 Within the hospital complex of Varaždinske Toplice, a new building of the National Rehabilitation Center for people with spinal disabilities, with capacity of 76+5 beds is being built near Terme. Nexar's team Zdenka Šarolić, B.Sc.arch, and Karl Dragica Lipej, B.Sc.arch authored architectural design on the basis of first concept by Damir Ivšić, B.Sc.Arch, and developing design of functional units within the building, and the design of the facade and environment. By that the final conceptual design was defined, according to which the project documentation of the conceptual, main and execution design was made.
The National Center building is 6.720 m2 and is located on extremely steep terrain, the configuration of which has been used to form more multifunctional outdoor spaces for patients' stay and therapy. As patients at the center are primarily inpatients with severe trauma, they need to be provided with special care but also a supportive environment that will have a beneficial effect on their psychophysical recovery. For this reason, physical therapy is performed in spacious, well-lit spaces, which are connected by large windows to the terrace or yard, and the rooftop garden is a direct extension of the apartments in which patients practice independent living skills before discharge from the hospital.
The spinal ward of the Varaždinske Toplice Special Hospital is the only ward in Croatia that cares for spinal patients of any injury or spinal cord disease with severe functional deficits: tetraplegia and paraplegia. The beginnings of the Department's work go back 30 years, and in mid-1980, through close cooperation with surgical and neurological clinics, primarily with the Zagreb Traumatology Clinic, an integral approach to the treatment and rehabilitation of spinal patients began. The great advantage is given to the training of staff so that they attend training in rehabilitation centers in Europe (Austria, France, England) which is still the practice of the Department. Today, the Spinal Department has become the base for the education of specialists in physical medicine and rehabilitation, physiotherapists, nurses and associates in health care for the whole of Croatia, as well as for the territory of Europe, which was confirmed by a certificate from the European Committee of Specialists. The work of the Spinal Department will continue in far better conditions in a modernly equipped new building, which will become a unique reference point for the whole of Croatia.